Erlebe eine Stadtführung als standort-basiertes Spiel (location based game) in Berlin. B-Tour – The International Art Festival Of Guided Tours präsentiert:
Das magische Dreieck von Uli Schuster
Die Berliner Mauer ist Symbol des geteilten Deutschland. Dieses Jahr jährt sich der Mauerfall zum 25. Mal. Aber haben Sie von dem ungewöhnlichen Ereignis gehört das 180 Personen von West- nach Ost-Berlin über die Mauer flüchteten? Am 1. Juli 1988 ereignete sich wohl eine der merkwürdigsten Begebenheiten an dem ehemaligen Grenzverlauf. Am Lenné-Dreieck, dem Ort des Geschehens, sind Sie eingeladen zu Einblicken in Motivation und Hintergründe des Sachverhalts um 'das sagenhafte Dreieck'. Dreißig Jahre Verkehrsplanung, eine zweimonatige Besetzung des Gebiets als 'Norbert-Kubat-Dreieck' und eine geschichtlich einmalige Flucht stehen als Zeitdokumente der geteilten Stadt. Mit einem iphone entdecken Sie Hotspots mit Informationen, aber auch Fragen und Aufgaben zu dem Ereignis. Neugierig? Lasst das Spiel beginnen…
Datum: 10.08 / 10:00-14:00 / in 30 min slots
Treffpunkt: Lennéstraße 1 / Ecke Ebertstraße (S+U Bhf Potsdamer Platz). Tickets für die Tour können über die Projektseite des Festivals erworben werden.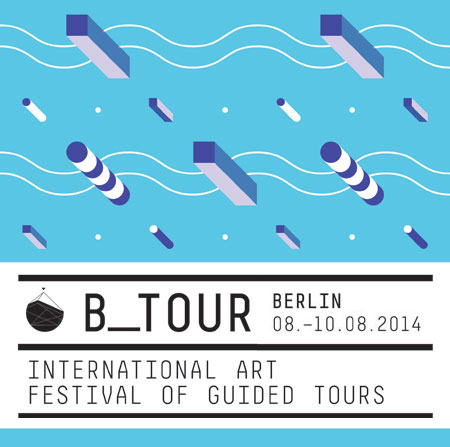 Details zur Tour:
_Dauer: 45 min
_Sprache: DE
_Anzahl der Teilnehmer: unbegrenzt
_Eine Datenverbindung ist erforderlich.
_Ein iPhone kann von bis zu 4 Personen zusammen genutzt werden
BITTE BEACHTEN: Die Teilnahme an dieser Tour erfordert den download einer speziell entwickelten Applikation und Anforderungen an Soft- und Hardware.
Voraussetzungen: iphone 4 oder 5 mit iOS7
Bitte, gehen Sie mit dem Browser Ihres iphones auf die Seite: http://arisgames.org/beta/ und laden Sie 'Install 2.0 Beta 4 (2.0.0.20140714)' direkt auf Ihr Gerät.
Sie werden am Startpunkt der Tour ein QR-Code erhalten, um sich in das Spiel einzuloggen :)
Hier das vollständige Programm des B_Tour Festival.